Transparent folding boxes
Panoramic view of your product.
A transparent folding box –
internally known as a transparent folding box –
is a transparent product packaging with a similar structure to a cardboard folding box. Fold the transparent folding box, insert the product, ready! Our transparent folding boxes allow the customer or buyer a full all-round view of your product. A distinction is made between a pillow box, a slip flap box and a bag folding box.
Individual transparent folding boxes
Tailored to your product.
The optimal visual packaging. Fold the pillow box, insert your product, done! Our packaging is also food compliant.,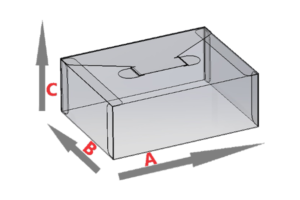 Are you looking for an individual packaging size? Simply enter your desired size here and start your enquiry.
Your packaging solution not included?
Get in contact with us and let us advise you without obligation. We will find an individual packaging solution for you.
Advantages of folding boxes
Let yourself be inspired by our transparent folding boxes
Extensive range of thermoformed articles
Innovative visual packaging solution for your product