Reusable trays (reusable packaging)
One distinguishes between reusable trays and one-way trays, the basic difference is the material thickness. A multigrane tray serves as a pendulum packaging, which is usually returned to the supplier after filling, thus forming a closed circuit.
The pendulum trays (reusable trays) should endure some transport routes depending on the design of the material thickness. These can then be cleaned depending on the request of special cleaning companies. On average, these are renewed every 1-2 years, but it depends heavily on the respective applications.
MultiAngestrays (pendulum packaging) are usually very well stackable and ensure a secure transport of your components. Trays are indispensable from automated logistics, especially for large quantities, stacking or help with the inventory.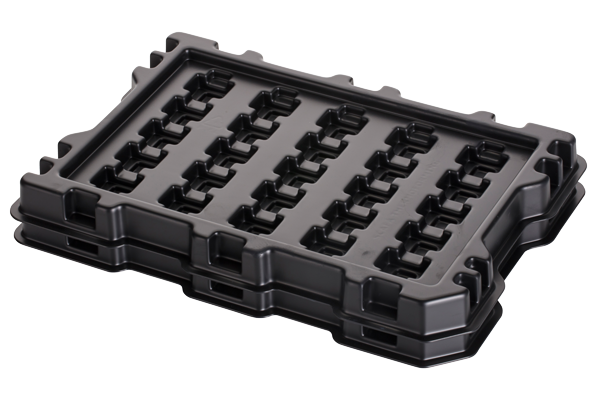 Are you looking for an individual solution for your transport packaging?
Extensive assortment of deep drawing items
Innovative visual packaging for your product
In addition to plastic trays (workpiece carrier), there are other types such as transparent packaging in our portfolio, which we manufacture according to your individual needs. These include sealing blisters and blister hoods, slide blisters and RF blisters. We help you to solve your packaging problem.