Plastic Trays
Better storage, protection and order.
A plastic tray is not only an optimal packaging, but also serves as a reliable protection of goods during transport. In addition, the plastic tray, like other deep-drawn parts, makes it easier to arrange the goods and thus also to count them – for example in the case of an inventory.
We at Scafa Thermoforming develop the perfect plastic tray for your individual goods with a lot of expertise.
Because we know that it is impossible to imagine automated logistics without the plastic tray – and we know this area very well. Whether plastic tray or blister packaging, Scafa Thermoforming is your experienced partner when it comes to tailor-made packaging solutions.
Individual plastic trays and inlays
You set the direction, we set the design.
Sensitive electronics need the best possible protection. The use of electrically conductive materials prevents electronic charging and discharging at the trays.
Our plastic inlays are individually tailored to your product and the corresponding outer packaging, so that everything really sits firmly in the packaging.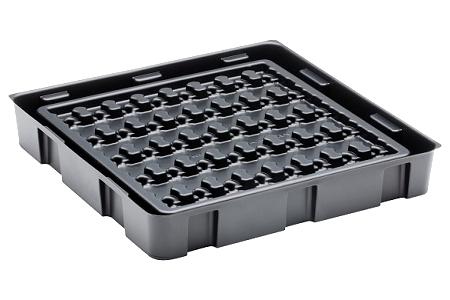 A tray is not only an optimal transport packaging, but above all serves to reliably protect goods during transport. It also makes it easier to arrange the goods.
Our disposable trays are provided with material marking in order to improve the recycling routes.
Reusable trays are usually very easy to stack and ensure the safe transport of your products.
Your packaging solution not included?
Get in contact with us and let us advise you. We will find an individual packaging solution for you.
Advantages of plastic arrays
Let yourself be inspired by our plastic trays
Extensive range of thermoformed articles
Innovative visual packaging for your product